Co-working spaces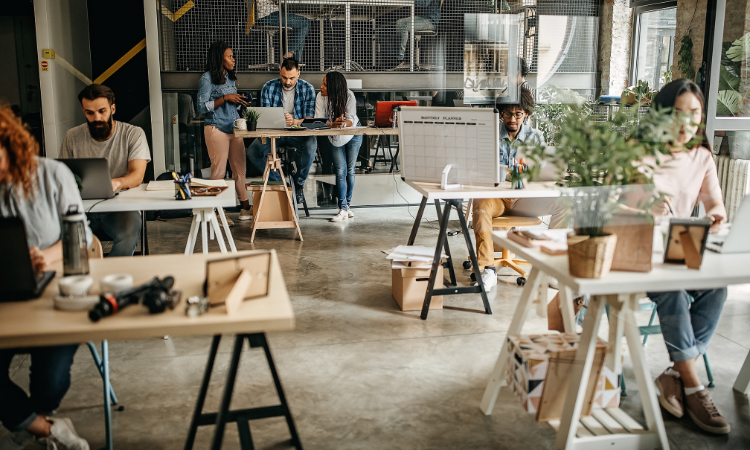 Co-working spaces are basically shared workspaces. They offer reasonable office space for those looking to escape the isolation of a home office or coffee shop.
These shared workspaces offer a suite of office-like amenities such as hot-desks, private meeting rooms, kitchens, coffee and more. Often, they also offer a community. Occupants typically are freelancers, entrepreneurs, start-ups and small teams who want to take advantage of a flexible space.
Furthermore, to culture cost is another big attraction. One of the advantages of these places is the ability to rent out only what you need versus a complete private office space, which can be expensive. Through several membership-based models, costs vary and allow for flexibility. These contain possibilities for daily fees or monthly fees. Membership costs also differ based on whether you use a shared desk or want a dedicated one and what is more important: you create a community.

Why is community important for coworking? Coworking: More Than Just Space, It's A Community of Support.
Coworking space or a flexible office can and must be a great platform for creating an atmosphere where people have wonderful time and work efficiently. People who use coworking spaces see their work as meaningful. Moreover, coworking spaces involve members who work for a range of different companies, ventures, and projects. Because there is little direct competition or internal politics, they don't feel they have to put on a work persona to fit in. Working amidst people doing different kinds of work can also make one's own work identity stronger.
Additional, exists a culture where the norm is to help each other out, and there are many opportunities to do so; the variety of workers in the space means that co-workers have unique skill sets that they can provide to other community members.

How coworking spaces are used as a tool to collaborate? There is the so-called coworking manifesto that says:
 "We have the talent. We just need to work together. Different environments need to overlap, to connect and to interact in order to transform our culture. In order to create a sustainable community based on trust, we value: collaboration over competition; community over agendas; participation over observation; doing over saying; friendship over formality; boldness over assurance; learning over expertise; people over personalities; and "value ecosystem" over "value chain."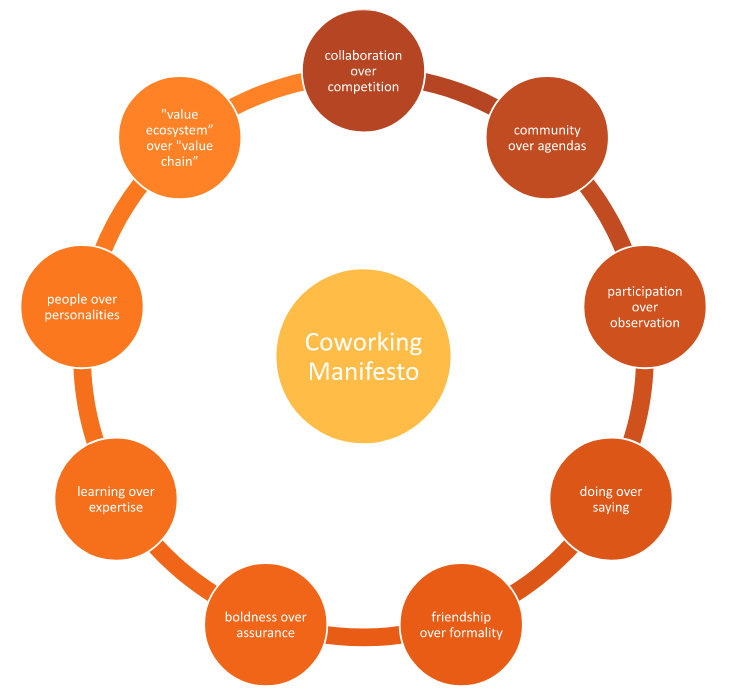 Source: Own elaboration
Connections with others are a great reason why people pay to work in a collective space, as opposed to working from home for free or renting a nondescript office. Each co-working space has its own vibe, and the managers of each space go to great lengths to cultivate an exclusive experience that meets the needs of their respective members.
Would you be able to follow these rules?