Cyberbullying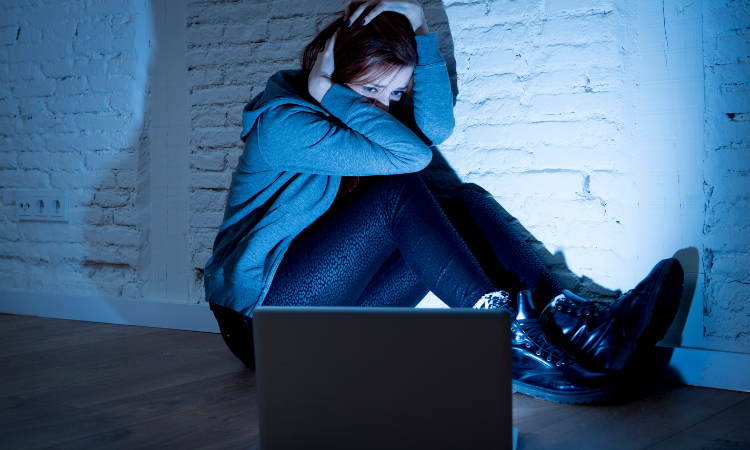 Cyberbullying can be defined as an aggressive, intentional and repeated act carried out by a group or individually, performed via electronic means such as mobile phones or the internet, against a victim who cannot easily defend himself or herself (Slonje, Smith and Frisén, 2013). 
Bullying, in general, is separated from other aggressive behaviors based on two aspects. The first one is repetition, as mentioned in the definition above, and the second is power imbalance. Usually, the perpetrator's intention is not to repeat the abusive act but due to excessive use of technology, this may slip his/her control. For example, a picture with offensive content may be posted on the Internet once, but consequently may be shared multiple times by other people, not by the initial perpetrator. This way repetition is inevitable and embarrassment is experienced many times by the victim. 
Concerning power imbalance in terms of cyberbullying, it is not necessarily referred to physical or psychological "weakness", but also to the lack of knowledge in ICTs and/or the anonymity cyberspace offers (Slonje, Smith and Frisén, 2013). Studies conducted so far, indicate that there is a correlation between students with advanced ICT knowledge and carried out, delinquent, online activities. Regarding anonymity usually the victim is not aware of the perpetrator's identity and, therefore, it is difficult to face him efficiently (Slonje, Smith and Frisén, 2013). 

Motives
Motives of cyberbullying could be divided in two categories: internal and external.  Internal motives include anger, jealousy, willing to revenge or even boredom (Slonje, Smith and Frisén, 2013). These may also indicate troubled family affairs. Furthermore, cyberbullying behavior may meet the need for imposition of power (Nika, Gioldasi and Vitta, 2017). Concerning external motives these may be either the possible absence of serious consequences against the perpetrator or the fact that the perpetrator may be reluctant or afraid to proceed in a face – to – face encounter with the possible victim (Slonje, Smith and Frisén, 2013).

Consequences
The victim and the perpetrator at times experience negative emotions such as anger, sadness, anxiety, embarrassment, fear, self-blame and lack of self – esteem.
Regarding school context, negatively affected concentration, poor academic performance but also absence from school have been noticed (Šléglová and Cerna, 2011). 
Victims can feel so helpless, lonely, embarrassed and desperate that may decide to commit suicide.
Both victims and perpetrators may be socially marginalized and therefore the aforementioned emotions are intensified. 
The victims may not try to defend themselves because they think that this abusive behavior is "normal" or expected or that they deserve it, when feeling inferior (Šléglová and Cerna, 2011).

Ways to counteract
It is really important both adolescents and adults be informed and be aware of internet safety and the functional differences among several means of technology (Olweus, 2012). 
Other practical solutions are blocking unknown people on social media and  changing often passwords and usernames.  
Ask for help from a familiar person or an expert (Slonje, Smith and Frisén, 2013). Open up about a bad experience you are going through or you went through in the past and share your feelings. This will help you to feel more relieved and will help you to easier come up with a solution.
Parents need to be open-minded and essentially close to their children, so that the latter will feel free to discuss such issues as cyberbullying and cybervictimization. 
It is of vital importance when surfing on the internet to be aware of people rights and how to respect them.
Organize training courses or seminars concerning cyberbullying and ways to counteract. 

Case studies
Brandy Vela (1998–2016), age 18, was a high school senior who killed herself in November 2016 after years of bullying in person and online by her peers about her weight. According to her sister, the bullies created dating websites, where they lied about her age, put up her picture, and used her phone number to tell people she's giving herself up for sex for free to call her. Brandy shot herself in the chest with a gun and died in the hospital the day after. After her death, a couple of teenagers were arrested for bullying her (Wikipedia contributors, 2020).
Megan Meier (1992–2006), age 13, was an American teenager from Missouri, who killed herself by hanging a few weeks before her fourteenth birthday. One year later, her parents, after having carried out an investigation into the matter of her suicide, found out that was attributed to cyber-bullying through the social networking website Myspace. Individuals intended to use Meier's messages to learn more about her and later humiliate her (Wikipedia contributors, 2020).
References
Nika, D., Gioldasi, P., & Vitta, F. (2017). Cyber bullying) vs cyber stalking.
Olweus, D. (2012). Cyberbullying: An overrated phenomenon?. European journal of developmental psychology, 9(5), 520-538.
Šléglová, V., & Cerna, A. (2011). Cyberbullying in adolescent victims: Perception and coping. Cyberpsychology: journal of psychosocial research on cyberspace, 5(2).
Slonje, R., Smith, P. K., & Frisén, A. (2013). The nature of cyberbullying, and strategies for prevention. Computers in human behavior, 29(1), 26-32.
Wikipedia contributors. (2020, November 27). List of suicides that have been attributed to bullying.Wikipedia. https://en.wikipedia.org/wiki/List_of_suicides_that_have_been_attributed_to_bullying