Disponibilità al confronto e alla collaborazione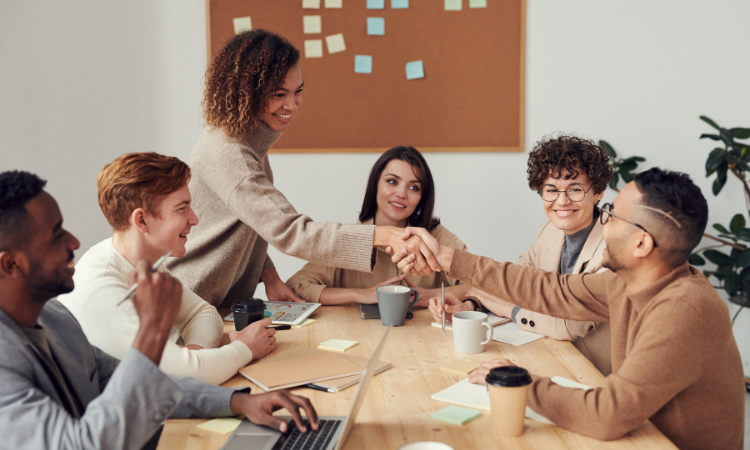 Il termine "discussione" si riferisce all'esame approfondito dell'argomento per giungere a una conclusione. Collettivamente, si parla di discussione di gruppo, ovvero lo scambio di idee tra i candidati partecipanti su un argomento o un tema specifico. Il concetto è quello di riunire un gruppo di persone su una piattaforma comune per condividere le proprie idee. http://targetstudy.com/articles/importance-of-group-discussion.html
La "collaborazione" consiste nel riunire persone provenienti da reparti, sedi e team diversi e nel concentrare i loro sforzi su un obiettivo comune. https://blog.jostle.me/blog/6-collaboration-skills-and-how-to-foster-them.
La disponibilità alla discussione e alla collaborazione, quindi, significa essere aperti a discutere e a collaborare con gli altri per raggiungere una visione comune su diversi argomenti e obiettivi, essendo mentalmente flessibili e aperti alle opinioni e alle considerazioni degli altri.
Attività
Nome dell'attività: 
Caccia al tesoro
Scopo dell'attività:
Un'attività di team building all'aperto che stimola la collaborazione, la risoluzione dei problemi, il lavoro di squadra ed è divertente. 
Abilità sviluppate:
Discussione e collaborazione
Numero dei partecipanti:
Illimitato
Time requirement of the activity:
60-90 minuti
Quanti istruttori sono richiesti?
1 che garantisca l'equità del gioco
Materiali/Spazi richiesti: Qualsiasi tipo di spazio

Descrizione dell'attività:
È necessario creare un elenco di attività e allinearle allo scopo della caccia. Se si vuole che i nuovi assunti entrino in contatto con i dipendenti senior, è bene progettare attività incentrate sul team che li costringano a collaborare. Per ogni attività è previsto un sistema di punti, in base al livello di difficoltà. Il gruppo deve essere diviso in squadre di dimensioni uguali. Una volta terminato il tempo a disposizione, si valuterà quale squadra ha completato il maggior numero di attività e ha ottenuto il punteggio più alto.
Bibliografia
Spure, K. "51 best employee team building games for improving productivity at work", Copyright © 2011 – 2021 DeskTime, Retrieved November 19, 2021, from desktime.com/blog/best-employee-team-building-activities/.
"Importance of Group Discussion", Retrieved November 19, 2021, from http://targetstudy.com/articles/importance-of-group-discussion.html.
Moseley, C., "6 crucial collaboration skills (and how to foster them)"  Copyright © 2009–2021 Jostle Corporation, Retrieved November 19, 2021, from https://blog.jostle.me/blog/6-collaboration-skills-and-how-to-foster-them.