Internet of things (IoT)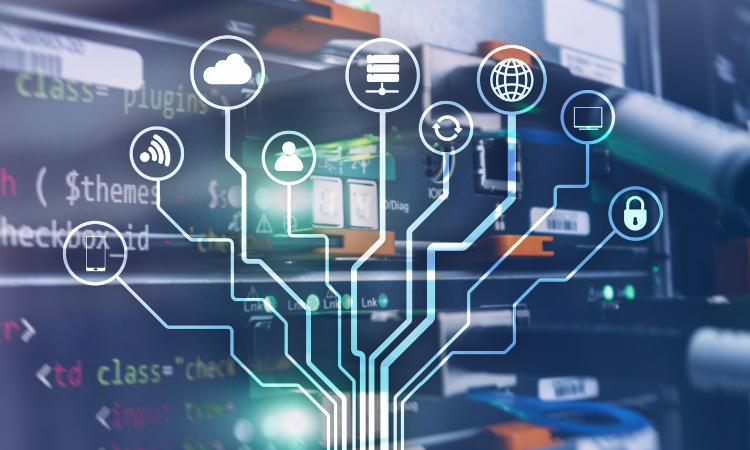 The Internet of Things (IoT) is a system of interrelated computing devices, mechanical and digital machines, objects, animals or people that are provided with unique identifiers and the ability to transfer data over a network without requiring human-to-human or human-to-computer interaction.
This new wave of connectivity is going beyond laptops and smartphones, it's going towards connected cars, smart homes, connected wearables, smart cities and connected healthcare. Basically, a connected life. 
The idea of inter-connected devices where the devices are smart enough to share information with us, to cloud based applications and to each other (device to device).
Smart devices or "Connected devices" as they are commonly called, are designed to capture and utilize every bit of data shared or used in everyday life. And these devices will use these data to interact with you on a daily basis and complete tasks. They will bridge the gap between the physical and digital world to improve the quality and productivity of life, society and industries. With the launch of Apple Watch and more devices to flow in, these connected devices are going to keep us hooked with the inter-connected world.

10 Real World Applications of Internet of Things (IoT) – Explained in Videos
| | | |
| --- | --- | --- |
| | Smart Home has become the revolutionary ladder of success in the residential spaces and it is predicted Smart homes will become as common as smartphones. Smart Home products are promised to save time, energy and money | |
| | Wearable devices are installed with sensors and softwares which collect data and information about the users. This data is later pre-processed to extract essential insights about the user. These devices broadly cover fitness, health and entertainment requirements. The prerequisite from internet of things technology for wearable applications is to be highly energy efficient or ultra-low power and small sized. | |
| | The automotive digital technology has focused on optimizing vehicles internal functions. But now, this attention is growing towards enhancing the in-car experience. A connected car is a vehicle which is able to optimize its own operation, maintenance as well as comfort of passengers using onboard sensors and internet connectivity. Most large automakers as well as some brave startups are working on connected car solutions. Major brands like Tesla, BMW, Apple, Google are working on bringing the next revolution in automobiles. | |
| | Industrial Internet is the new buzz in the industrial sector, also termed as Industrial Internet of Things (IIoT). It is empowering industrial engineering with sensors, software and big data analytics to create brilliant machines. According to Jeff Immelt, CEO, GE Electric, IIoT is a "beautiful, desirable and investable" asset. The driving philosophy behind IIoT is that smart machines are more accurate and consistent than humans in communicating through data. And, this data can help companies pick inefficiencies and problems sooner. IIoT holds great potential for quality control and sustainability. Applications for tracking goods, real time information exchange about inventory among suppliers and retailers and automated delivery will increase the supply chain efficiency. According to GE, the improvement of industry productivity will generate $10 trillion to $15 trillion in GDP worldwide over next 15 years. | |
| | Smart city is another powerful application of IoT generating curiosity among world's population. Smart surveillance, automated transportation, smarter energy management systems, water distribution, urban security and environmental monitoring all are examples of internet of things applications for smart cities. IoT will solve major problems faced by the people living in cities like pollution, traffic congestion and shortage of energy supplies etc. Products like cellular communication enabled Smart Belly trash will send alerts to municipal services when a bin needs to be emptied. By installing sensors and using web applications, citizens can find free available parking slots across the city. Also, the sensors can detect meter tampering issues, general malfunctions and any installation issues in the electricity system. To understand better the functioning of Smart Cities check out this video. | |
| | With the continuous increase in the world's population, demand for food supply is extremely raised. Governments are helping farmers to use advanced techniques and research to increase food production. Smart farming is one of the fastest growing fields in IoT. Farmers are using meaningful insights from the data to yield better return on investment. Sensing for soil moisture and nutrients, controlling water usage for plant growth and determining custom fertilizer are some simple uses of IoT. If you are curious, the video below explains further about this concept. Read more to know the latest about IoT in agriculture. | |
| | The potential of IoT in the retail sector is enormous. IoT provides an opportunity to retailers to connect with the customers to enhance the in-store experience. Smartphones will be the way for retailers to remain connected with their consumers even out of store. Interacting through Smartphones and using Beacon technology can help retailers serve their consumers better. They can also track consumers' paths through a store and improve store layout and place premium products in high traffic areas. Watch this video to find out how connected retail will make your life easier. Read more to know the latest technology changing the face of retail. | |
| | Power grids of the future will not only be smart enough but also highly reliable. Smart grid concept is becoming very popular all over the world. The basic idea behind the smart grids is to collect data in an automated fashion and analyze the behavior of electricity consumers and suppliers for improving efficiency as well as economics of electricity use. Smart Grids will also be able to detect sources of power outages more quickly and at individual household levels like nearby solar panel, making possible distributed energy system. Here's a video to explain how a smart grid operates. | |
| | Connected healthcare yet remains the sleeping giant of the Internet of Things applications. The concept of a connected healthcare system and smart medical devices bears enormous potential not just for companies, but also for the well-being of people in general. Research shows IoT in healthcare will be massive in coming years. IoT in healthcare is aimed at empowering people to live healthier life by wearing connected devices. The collected data will help in personalized analysis of an individual's health and provide tailor made strategies to combat illness. The video below explains how IoT can revolutionize treatment and medical help. | |
| 10. IoT in Poultry and Farming | Livestock monitoring is about animal husbandry and cost saving. Using IoT applications to gather data about the health and wellbeing of the cattle, ranchers knowing early about the sick animal can pull out and help prevent a large number of sick cattle. With the help of the collected data and ranchers can increase the poultry production. Watch this interesting video. | |