Performing under pressure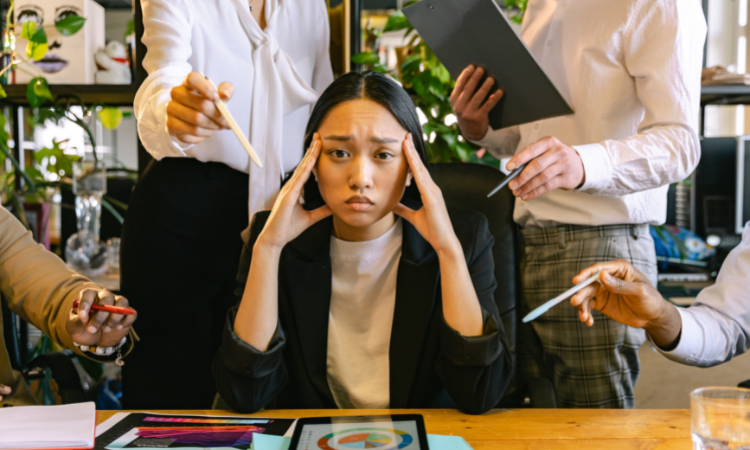 The term "performing under pressure" is usually mentioned in professional life but we may also have to perform under pressure in our personal life. We might come across performance under pressure, when we lack the expertise or knowledge required to complete a task (Bigelow, 2019). Performing under pressure requires effective emotional management, so that feelings, like anxiety and/or anger, won't inhibit the execution of our plans. It is of vital importance to learn how to manage pressure in a productive way (Council, 2017; 11 Secrets to Performing Well Under Pressure, 2016).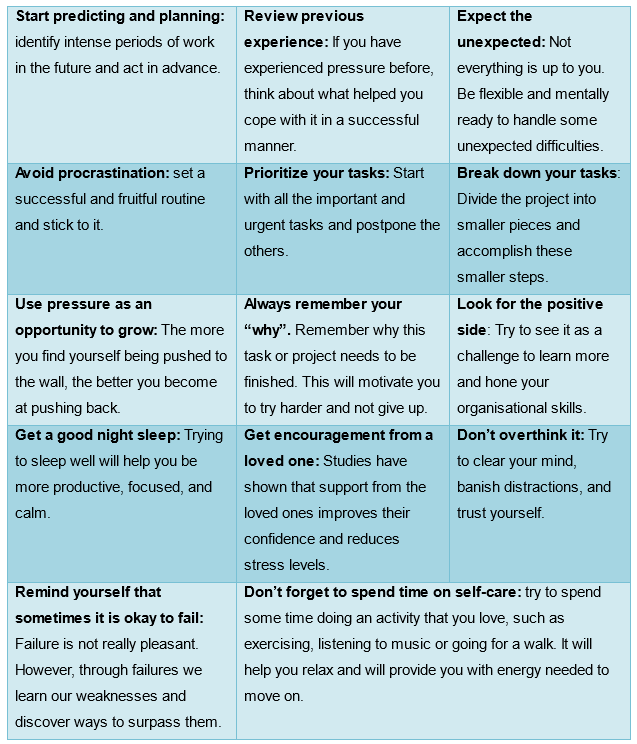 Despite the difficulties this situation may include, performing under pressure has also some benefits. It increases leadership and organizational skills. Moreover, people who thrive under pressure, experience higher self-confidence, and feel mentally alert (Bigelow, 2019). When pressure is perceived as a challenge, it helps you discover new ways to cope successfully with all the difficulties and acquire all the necessary knowledge to face future similar circumstances.
Activity

Name of the activity:
Practice in advance
The aim of the activity:
The goal of the activity is to help the participants be better prepared for some unexpected difficulties concerning the pressure event. It will give them the chance to visualize some possible inconveniences that may occur and think about ways to surpass them in advance.
Skills that the activity develops:
It hones organizational skills and the ability of planning and preparing effectively.
How many people the activity is suited for: 
There is no specific limit. It can be carried out either individually or in a team given that they have faced a similar pressure event before.
Time requirement for the activity:
It depends on the scenario of each participant.
How many instructors are needed:
0 – 1 
Other requirements for the activity:
There is no standard equipment required. It depends on the scenario of each participant.
Describe the activity in a clear and concise manner:
Each participant thinks about the situation that could potentially put pressure on him/her. It could be either a presentation in front of an audience, or an exam, or a deadline, or even a conversation of high importance. After you bring the stressful occasion to your mind, think about what could go wrong. Think about something that if it happened, it would have caused extra anxiety. For instance, regarding an exam, you might think that the worst would be to check the time during the exam and find out there are only 15 minutes left and you still haven't answered almost half of the questions. Or concerning a deadline, imagine that your employer suddenly asks you to hand in the task earlier. Thereafter, we proceed to the action plan. After having imagined a potential hitch, start acting to try to cope with it successfully. For example, regarding the exam, find a similar test and try to answer it in less time than you will have in the real exam. As for the deadline, start working as if you have indeed to finish the task earlier. Therefore, you can be better prepared for some barriers you may come across and thus it will be easier to deal with them. If you can't simulate a stressful situation, then think about a stressful scenario and write down ways, which will help you face it successfully.