Reflexive and Proactive components: skills, aptitudes and attitudes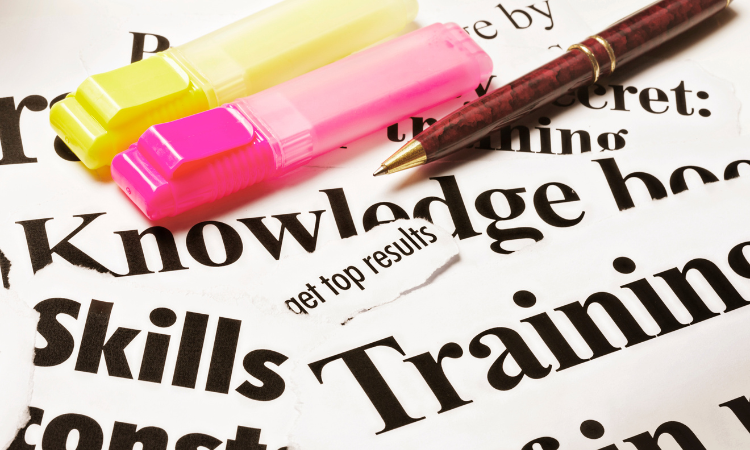 The concepts identified above, although different, are related with:
Knowledge – the result of assimilating information through learning, experience or self-awareness. Knowledge is the collection of facts, principles, theories and practices related to an area of study or work.
Skill – ability to carry out or perform a specific task.
Competence – proven ability to use/mobilize personal, social or methodological knowledge, skills and competencies in professional situations or within study contexts, and for professional or personal development purposes.

It is very important that adults develop broader skills and professional abilities, which facilitate possible job changes or career plans from one moment to the next. Therefore, it is necessary to create a powerful and effective method that can be used in order to provide adults with the soft skills that make them employable:
Knowledge: schemas and mental representations about a given subject
Ability and Skill: success in a domain, know-how
Attitude: predisposition to act in a certain way
Situation: set of external stimuli
Operationalisation: mobilize something in a prepared and organized way
Efficiency: achieve desired objectives through appropriate means
What are my skills and my strengths?
The Blueprint framework for career management skills is a framework that can be used to help you manage your approach to your life, learning and work. Blueprint framework builds upon international practice and has been developed by UK .

Blueprint learning objectives are: 
Understanding and developing myself
I know who I am and what I am good at
I interact confidently and effectively with others
I change, develop and adapt throughout my life.
Exploring life, learning and work
I learn throughout my life
I find and utilise information and the support of others
I understand how changes in society, politics and the economy relate to my life, learning and work
I understand how life, leaning and work roles change over time
Developing and managing my career
I make effective decisions relating to my life, learning and work
I find, create and keep working
I maintain a balance in my life, learning and work that is right for me
I plan, develop and manage my life, learning and work
Activity
Careers quick questionnaire for knowing your skills and strengths:
https://app.career-skills.eu/index.php/en/assessment-toolhttps://richardstep.com/richardstep-strengths-weaknesses-aptitude-test/https://richardstep.com/richardstep-strengths-weaknesses-aptitude-test/free-aptitude-test-find-your-strengths-weaknesses-online-version/
Personal effectiveness
If you work on personal effectiveness, you want to get the best out of yourself. Personal effectiveness is increased when you gain more insight into yourself. What do I find important, why do I find this so important? And, are all my beliefs equally helpful, or do some of them stop me from performing better?
It can't just be reaching our goals because we could do so in a very wasteful, time consuming or sloppy way. How about making best use of our time and all other personal resources at our disposal? This means achieving our goals efficiently, like investment, getting the best possible return. What's more, personally effective people are thus more than just people who get what they want. 
How to make it come true? Personal development skills are qualities and abilities that help you grow both personally and professionally. In other words, they are skills that help you feed your personal development. Understanding and improving them can help you make best use of your potential. This procedure is also known as self-development or personal growth. Whether you want to be a successful sales person or good in sports, being effective means a combination of efficiency and skilled execution. Furthermore, it can be helpful to improve your personal development skills so that you can include them into your daily routines and use them to:
Achieve personal and career goals
Advance in your career
Improve your strengths and talents
Better yourself
Find fulfilment and satisfaction
Personal development skills can be traits or qualities you already have or ones you can gain through education and training. Individuals will value different personal development skills depending on their goals, but here are some examples of skills people commonly practice to facilitate personal growth: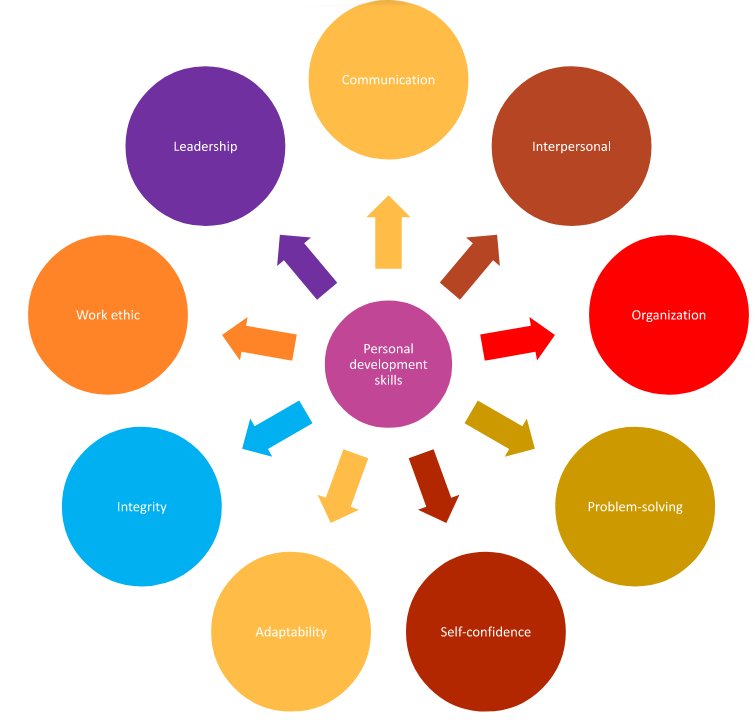 Source: Own elaboration

How to highlight personal development skills?

Highlight personal development skills in your resume
Make a segment in your resume titled "Skills" that contains both hard and soft skills. Include only the personal development skills that are needed for that job. If you have many different skills, you might write them by category within your resume's skills section.
Example:
Relevant Skills
Time management: Consistently handled upward of six projects at a time and met 100% of deadlines
Organization: Created an efficient online filing system for a large group of clients using color-coded folders and documents as well as tags
Adaptability: Adjusted workflow to accommodate additional responsibilities, including refined task scheduling and time tracking

Highlight personal development skills in your cover letter
Select a couple of personal development skills that you feel are strong and most applicable to the job. Within the body of your cover letter, describe briefly how you would use each one to that job's responsibilities, or give an example of how that skill has helped you in the past.
Example: As an effective problem-solver, I assisted clients quickly to solve their programming issues. The clients reported a 92% success rate at resolving computer problems under my guidance.

Highlight personal development skills during your job interview
List your strongest personal development skills when answering interview questions, such as "What are your strengths and weaknesses?" or "What are your goals?" Describe your top skills, your plan for further development and in which you can improve. You can also explain examples of your personal development skills.
Example: "During a period of tension in the workplace, my interpersonal skills and ability to form relationships facilitated the union of our department being a more cohesive and productive team."
Self-development is a lifelong process upon which you can continue to improve. Focus on developing the skills that will best help you reach your goals.
Exercise: Personal SWOT Analysis
With this exercise you will look at your Strengths, Weaknesses, Opportunities and Threats, and help you to identify the focus for your career management
Strengths include your skills, experience, talents, qualifications, and personal qualities.
Weaknesses are any aspects of these in which you believe you have a deficit that is affecting you in your work.
Opportunities are possibilities in your environment, such as career opportunities, new projects coming up, time and space and opportunities for learning and development.
Threats are the factors in your environment that might limit you or hold you back.
The best method to do this is to start broadly, by thinking about requests such as:
What interests me?
Where do I want to go?
What do I need to learn in order to move in this direction?

How to improve your personal development skills?
You can improve your personal development skills by taking classes, learning from the people around you, developing new talents and improving upon existing ones. 
Use these guidelines to progress in your personal development:
Learn something new. Learn a new ability or topic, doing it yourself or sign up for a class. You might, for instance, take courses to learn another language, a new software program or how to write creatively.
Overcome your fears. Fear can affect your growth and progress. For example, if you are afraid of public speaking take a class or join a group that helps people become better public speakers.
Network. By networking with different people, you can learn new ideas and understand how to communicate and work with diverse personality types.
Read. Reading can increase your knowledge and vocabulary and keep you informed. It can also inspire your mind and can expand your critical thinking skills.
Ask for feedback. Ask a family member, friend, colleague or manager to give you feedback on a current project or accomplishment.
Observe others. Watch and learn from the people who can inspire you.
Get a mentor. If you need help recognizing ways to build your self-development skills, talk to a mentor.
Keep a journal. Writing in a journal every day or week can help you gain self-awareness and reflect on recent events, decisions and conversations.
Meditate. Many people meditate to gain clarity and awareness and to reduce stress and anxiety.
Would you be able to use any of these tactics?
Managing life and career
Harmonizing your professional and personal life can be challenging, but it's vital. We can say that work-life balance is the state of equilibrium where a person equally prioritizes the demands of one's career and the demands of one's personal life. Unfortunately, that's not always the situation and today work is likely to invade your personal life — and maintaining work-life balance is not an easy mission. And the question is, "What is most important to me now and in the coming years: work/life balance or career?" 
It's a delicate balancing item. Understanding what makes you happy and what's central to you. Defining where you are in your career and life and where you want to be. What is more important, deliberately evaluating and understanding what you want in your career is imperative because when it goes right the job hardly feels like work, but if you never really give these items any specific thought, there are typically three outcomes – an unhappy existence, you quit, or you're fired.
Actually, there really is no correct answer to a lot of these interrogations. There's only a right answer to you: your goals and your situation. 
So, when you're looking to make your career move, spend some time evaluating work/life balance and career and use this as a starting point to evaluate what is best. It's a decision that could ultimately affect the rest of your life.

Here are the top 21 tip for achieving and maintaining a healthy work/life balance.
1. Play to your strengths
Don't try and be all things to all people. Focus on your strengths and outsource the others. If you're not a whiz at accounts or graphic design, subcontract them instead of wasting time.
2. Set goals and priorities (and stick to them).
You may have a to-do list with 25 tasks on it, so you need to order those tasks into four categories.
They are: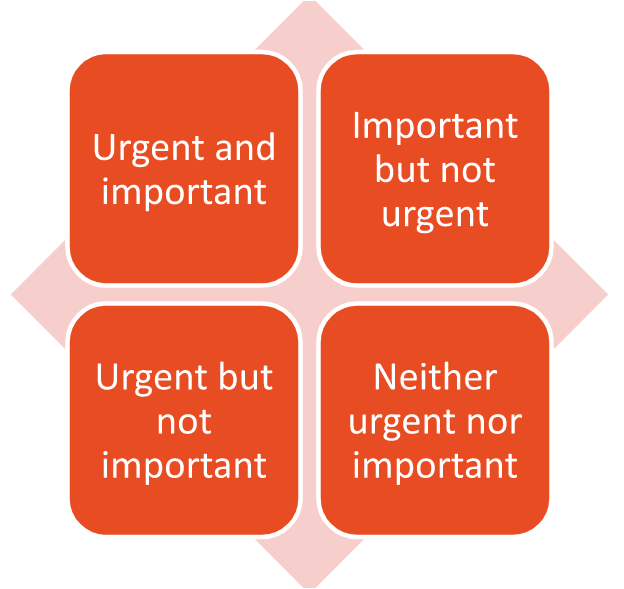 Source: Own elaboration
3. Know your peaks and troughs
Are you a morning person?
If you are, assign tough, high-concentration tasks to the mornings. Don't leave the tough tasks until it's night time and vice versa. 
4. Scheme some personal time
When personal issues arise, it can be tempting to bury yourself in your work. Don't do it If you don't make time for your personal life – your "me" time, including your family and your health – you won't have a business to go back to
5. Have set work hours – and stick to them
Set work hours for yourself and do everything in your power to stick to them. Otherwise, before you know it, you'll be working until midnight every night.
6. Find time for your finances
Whether you work for yourself or not, it's important to feel confident about your finances. In order to do this, you need to get some accounting software in place and use it from day one.
Cash flow is one of the biggest challenges facing small businesses. You should start using accounting tools early on so you know what's going on, financially, from day dot.
7. Manage your time, long term
Create a timeline of your activities. Specific computer programs can help with this, or you can customize your own Excel spreadsheet or Word table.
8. Put dates across the top and activities down the side. Break each task into components.
Include family commitments – such as holidays, birthday parties, etc. – so you don't forget that you are unavailable for work on those days.
9. Make your workspace work for you
Working for yourself does tend to require long hours and not much downtime, so invest in equipment that will support you. That includes getting a comfortable chair, an ergonomic keyboard, a support stand for your laptop, etc. An ergonomic assessment of your workspace is worth every cent.
10. Tap into technology
Instead of driving to a meeting, use Skype or conferencing technologies like GoToMeeting. But remember to switch them off.
11. Make exercise a must-do, not a should-do
It's easy to cancel the gym, the evening run or the yoga class because a client wants something done yesterday. Instead, ensure exercise is given as much priority as your clients and making money. A healthy body means a fresh mind, which means you will function better and complete tasks in less time.
12. Take time to make time
Invest in time-tracking tools. There are plenty of tools you can use to track everything from the frequency and duration of meetings, to chasing and converting leads. Time-tracking software allows you to quickly build an understanding of how long a particular task takes. That way, you can effectively estimate how long your next work task will take.
13. Know and nurture your network
Prioritise growing your network and have a structured lead/conversion system in place so you can track the time/cost involved to grow your network. Set the benchmarks early on and learn the lessons early.
14. Do what you love
Make time for something you love – other than work – and give it the time it deserves. It will energise and refresh you, and enable you to nurture the creative thought that is essential to every business owner.
15. Be realistic
At the end of each working day, perform a little self-analysis. Ask yourself what worked today, what didn't, what went wrong and how the issue can be fixed. Remember there are thousands of businesses just like yours learning the same lessons every day. Don't forget to tap into the valuable resources around you – your peers – for help.
16. Step out
Working for yourself can get lonely, so schedule some phone calls or coffee time with like-minded business owners to discuss ideas and offer each other support.
17. Get a business coach
Find the cash for a business coach. That way, you can find out sooner rather than later how to get rid of bad habits and implement good ones.
18. Meet clients halfway – literally
Don't always agree to meet a client at their office. Instead, meet halfway, perhaps at a café or restaurant. This will save you time and energy, not to mention money spent on travel.
19. Manage your mind
When fear or self-doubt or anxiety creeps in, do some work on your mental health such as meditation or reading a business book. Alternatively, spend time with someone who will lift you up and support you.
20. Take a break
Remember to take time out throughout your day. Some tasks are easier than others, so if you find yourself with an hour up your sleeve, be realistic about whether you can "afford" to rest or not. You might not have time every day to simply sit and "be", but do your best to give yourself a lunch break. Also, make a point of getting up and stretching every 15 minutes. It will help you become clearer, more focused and more productive.
21. Have that holiday
Make time for a holiday and book in breaks, at least quarterly. Whether your holiday consists of a one-day staycation or a two-week trip to Bali, it's important to take time off to physically and mentally recharge.
Activity
Let's do it—Defining your actions
Think on three possible actions for implement your CMS improvement, chose one and complete your goal-setting organizer

My chosen action and personal goal:
References
https://repository.excellencegateway.org.uk/Blueprint_brief_guide_Final.pdf