Reliability / honesty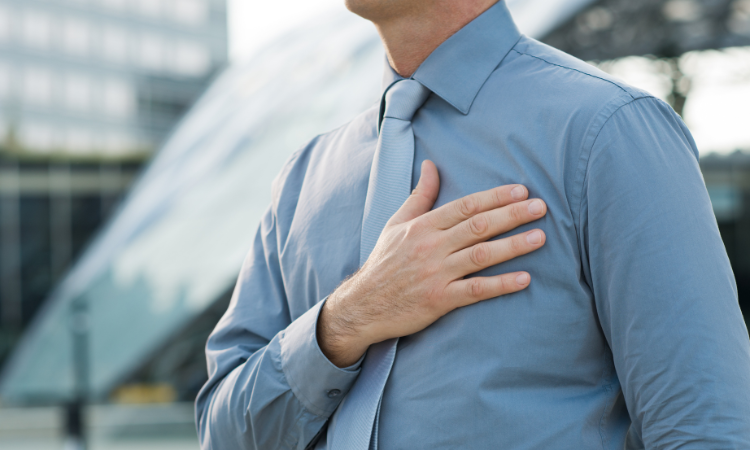 What is reliability?
The term "reliability" refers not only to the state, when someone does what he/she was committed to do, but also to the ability to look around and realize the tasks needed to be carried out, and then perform them. Although it might sound simple, reliability requires itself a variety of other personal skills, such as organizational skills, self – regulation and self – management skills ((c) Copyright skillsyouneed.com 2011–2021, n.d.)). Two key factors in reliability are organization and effective time management. You have to be aware of the average duration of each activity, which you have to carry out in order to be able to prioritize your duties and your time accordingly. Furthermore, reliability also means to be credible and conscientious. These two skills are both parts of self-management, which includes self-discipline, thus helping on insisting on doing things you might not like on the one hand; however, it is necessary to do on the other.  

What is reliability in the workplace
Reliability in the workplace is one of the major aspects for reaching success. Being reliable as an employee does not only mean being able to deliver the tasks you have undertaken on time. It is mainly the ability to manage your workload effectively and recognize when it is necessary to ask for help (Serafimovska, 2021). A reliable employee tries to come up with solutions when a problem arises without turning constantly to his/her supervisor. Last but not least, to be reliable means to say you will get something done and your colleagues know that you will actually carry it out (The Most Important Reliability And Dependability Skills (With Examples) – Zippia, 2021).

Tips to help you become more reliable
(Janowiak, 2021; Kolmar, 2021; The Most Important Reliability And Dependability Skills (With Examples) – Zippia, 2021)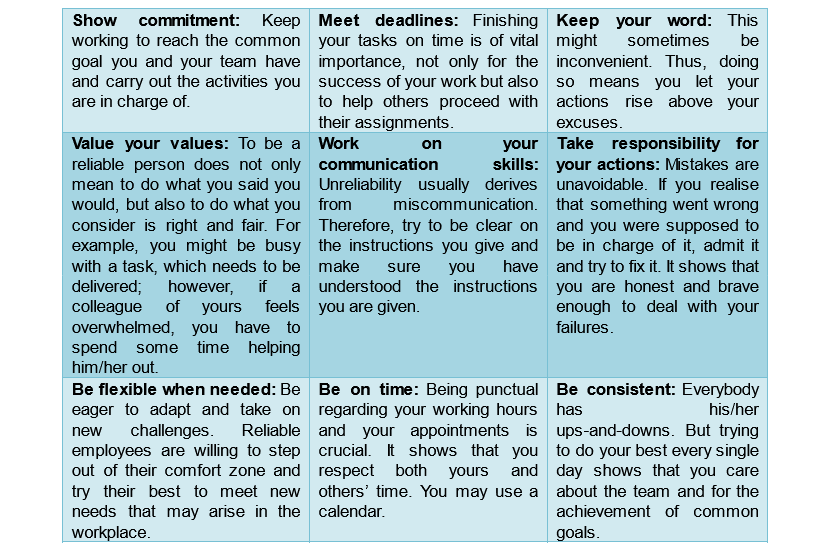 Beside the aforementioned tips of becoming more reliable, it is of high importance to demonstrate reliability in your curriculum vitae. Since a resume gives the first impression of the job applicant, it should include details concerning reliability. Therefore, there are some tips that might help you indicate reliability qualities (The Most Important Reliability And Dependability Skills (With Examples) – Zippia, 2021). 
Highlight relevant to reliability skills, when describing previous working experience: Mention the tasks you were in charge of and describe in detail prior working responsibilities you had undertaken, indicating you were a reliable employee.
Refer to reliability-related skills: In the section where you mention your soft skills, you ought to mention skills such as time management, communication and collaboration skills, adaptability and determination.
Mention previous leadership experiences (if any): A successful leader has to handle difficulties and cope with many responsibilities. If you have managed to do so in a previous working position, then you have to mention it in your resume because it will be an advantage. 

What is honesty in the workplace
Except for being reliable, an employee should also be honest. Being honest in the workplace means being transparent, in other words making your intentions clear and being consistent. Hence you give your colleagues and superiors the chance to get to know the real you and form their own opinion about you (How to Demonstrate Honesty and Integrity in the Workplace, 2021b).

Tips to help you become more honest and demonstrate it in the workplace
(How to Demonstrate Honesty and Integrity in the Workplace, 2021b)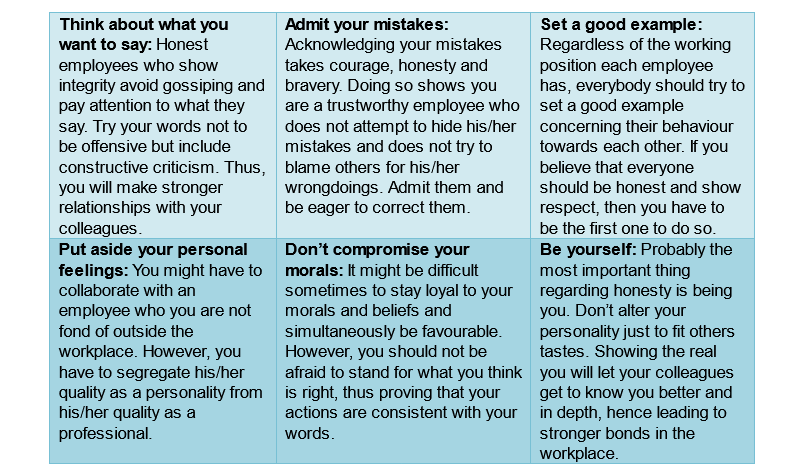 Activity

Reliability (Li, 2020b; TeamActivities, 2013)

Name of the activity:
Minefield
The aim of the activity:
The goal of the activity is to get participants familiarized with the idea of relying on their colleagues and build trust among them.
Skills that the activity develops:
Reliability, trust, giving and following clear instructions, communication skills
How many people the activity is suited for:
There is no maximum but there is a minimum of two.
Time requirement for the activity:
Five minutes per person.
How many instructors are needed:
0-1
Other requirements for the activity:
Objects to use as obstacles, blindfold
Describe the activity in a clear and concise manner:
Go to an open space and lay out a number of obstacles on the ground (e.g., cones and chairs). Pair the employees together, and make one of them wear a blindfold. The purpose here is to have the employee, who can see, verbally direct the blindfolded peer across the minefield to the other side without running into anything. The blindfolded employee can't talk, so he/she has to rely on close listening and coworker trust only. Through this activity the participants learn to rely on their colleagues and trust one another. Moreover, the participants should give clear instructions, therefore communication skills are honed, too.