Supervising and Mentoring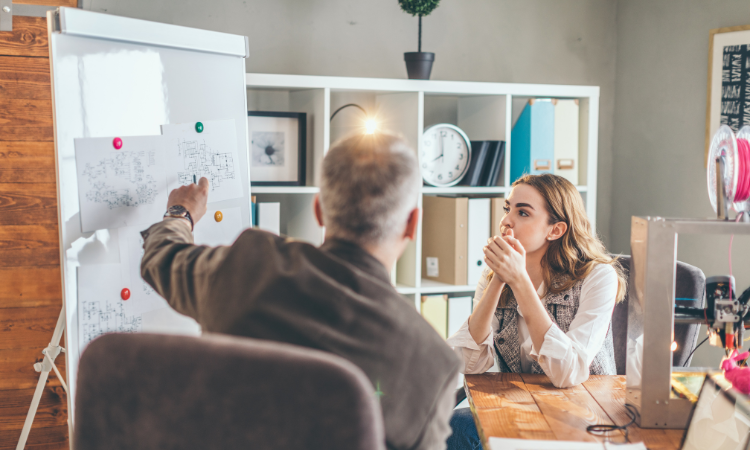 Mentorship is described as a dedicated relationship whereby a senior or more experienced person provides advice, counselling, and development opportunities to shape the career experience of a junior person through both career and psychological support (Eby, 1997). Mentoring can bring about a range of benefits for low qualified adults, such as improved relationships, increased communication skills and resilience (CEDEFOP 2021). Lastly, we must keep in mind that the establishment of a mentorship program requires a clear purpose, contextual knowledge and adaption to the profession, the organization and to individuals' needs (Bjursell and Sädbom, 2018). 
Watch this introductory video regarding mentorship.
(How to find the person who can help you get ahead at work, Carla Harris – https://www.youtube.com/watch?v=gpE_W50OTUc)
How to be a good mentor?
Before you start trying to be a good mentor, you should pay attention to the ideal potential mentor's characteristics and qualities. A good mentor is motivated and energized, cares about developing others and willing to commit their time (Forbes 2020). In details, an ideal mentor should 1) possess professional skills, 2) share knowledge, 3) provide guidance, 4) build trust, 5) learn new skills, 6) share positive information and 7) provide "negative feedback" to point out what is not working (Hoffmeister et al. 2011).
How to be a good mentee?
Literature indicates some tips on how you can achieve it by adopting the following guides: 1) Keep stable on the specific goals from the beginning, 2) Meet with your mentor consistently, 3) Set an agenda, 4) Be open to feedback: positive or constructive, 5) Take notes as you are meeting, 6) Decide on an end date, 7) Figure out that this is not a therapy session, 8) Consider establishing a board of mentors (NPR, 2020).
Activity
Name of the activity: 
Role-playing – Provide guidance
The aim of the activity: 
The goal of the activity is to get the participants familiarized with mentorship and the roles between mentor-mentee. It gives them the chance to practice some of the tips which are required when asking for guidance, such as sharing expertise, motivating mentees, sharing information, support in decision-making process, provide alternatives, provide feedback, provide negative feedback, etc. 
Skills that the activity develops: 
Provide guidance, Active listening, Motivation, Provide feedback, Creativity
How many people the activity is suited for: 
The activity requires 2 persons, a mentor and a mentee. The activity can run with as many couples as participants in each group of people.
Time requirement for the activity: 
Depends on the number of the participants and the topic they spend talking. Approximately 15-20 minutes.
How many instructors are needed: 
1
Other requirements for the activity: 
Open floor space so that the participants can sit in pairs and a device calculating the time each pair should spend.
Describe the activity in a clear and concise manner: 
The participants sit in pairs/couples of 2 people (in each group there can be as many pairs/couples as possible). One person is the mentor and the other the mentee. The mentee starts describing a certain issue/problem recently raised at work (3 minutes). After the 3 minutes, s/he must set a certain question/request to the mentor, who s/he is responsible to think, decide and provide feedback (5 minutes). The rest of the time (7-12 minutes) will be spent on discussion between mentor and mentee on how the specific issue/problem could be solved. This activity will enable participants to learn how to 1) listen to others actively, 2) advance critical thinking, 3) provide positive feedback, and 4) offer alternatives to a given issue/problem. Role-playing is a great way to improve your listening skills, your critical thinking and providing feedback skills, which are essential elements of mentorship. 
References
Bjursell, C. and Florin Sädbom, R. (2018), "Mentorship programs in the manufacturing industry", European Journal of Training and Development, vol.42, no. 7/8, pp. 455-469. https://doi.org/10.1108/EJTD-05-2018-0044
Eby, L. T. (1997). Alternative forms of mentoring in changing organizational environments: A conceptual extension of the mentoring literature. Journal of Vocational Behavior, vol.51, pp.125-144.
Forbes (2020) What makes a great mentor, and the importance of having one, Paramita Bhattacharya, Forbes, 24 February 2020. Accessed at: https://www.forbes.com/sites/forbescommunicationscouncil/2020/02/24/what-makes-a-great-mentor-and-the-importance-of-having-one/?sh=692852a8556f
Hoffmeister, K.; Cigularov, K.P.; Sampson, J.; Rosecrance, J.C. and Chen, P.Y. (2011) A perspective on effective mentoring in the construction industry, Leadership & Organisation Development Journal, vol.32, no.7, pp.673-688.
NPR (2020) The right mentor can change your career. Here's how to find one, 3 September 2020, Accessed at: https://www.npr.org/2019/10/25/773158390/how-to-find-a-mentor-and-make-it-work?t=1625137540686
Yount, K.M; Miedema, S.; Krause, K.H.; Clark, C.J., Chen, J.S. and del Rio, C. (2018) GROW: a model for mentorship to advance women's leadership in global health, Global Health, Epidemiology and Genomics, vol.3, no.5.